RESEARCH
COMPETITIVE ANALYSIS

I began by researching several competitors in the cloud storage and organization space to get a sense of the landscape. I then went in depth researching Box, GoogleDrive and Evernote; analyzing the strengths, weaknesses, opportunities and threats (SWOT Analysis) of each. From my research of competitors, I identified ways my product could differentiate itself.
Task creation and assignment feature
Web links saved as their own files
Payment options based on both features and storage
Privacy and security options for files
Track completion of tasks within a document
Pared down design with fewer distractions
USER SURVEYS
I used the opportunities for differentiation uncovered during the competitive analysis to create a survey that would help gain insight into the current user experience and identify identify where to focus my product in order to meet user needs.
Survey Takeaways

Task creation and assignment in a document
Track completion of document tasks
Easy to understand security options for files
More storage for less money
USER PERSONAS
Users expressed the desire for task management within assignment and security options. I conducted user interviews to gain a deeper understanding of user needs and kept these interviewees in mind as I designed, to ensure I was meeting user needs with my product; they really helped keep me focused.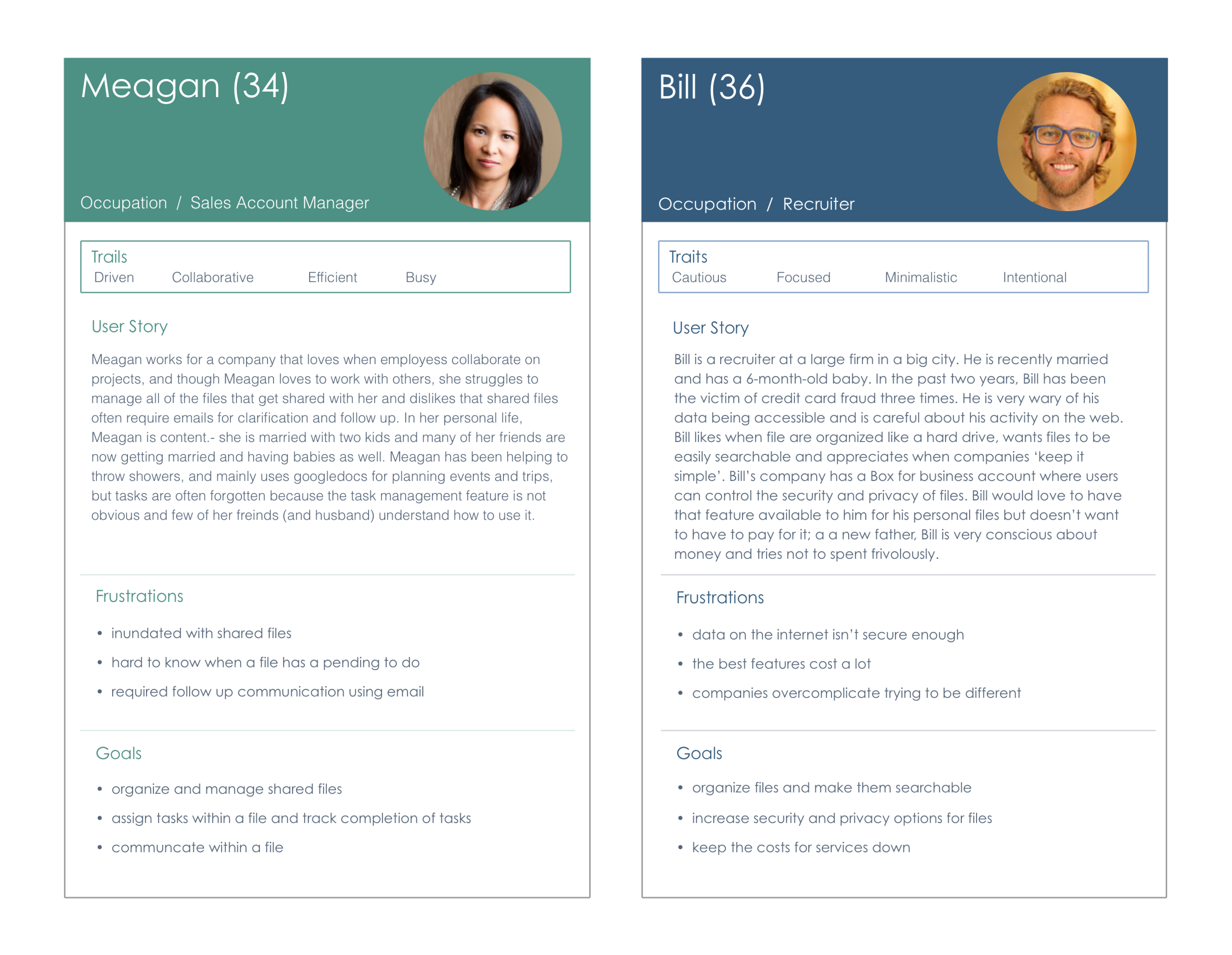 USER STORIES
Now that I figured out my users' needs, motivation and potientional pain points, I could start designing what solutions my product could offer. I created user stories to prioritize which features would be important must-haves and which features might be added on later, perhaps as part of a paid subscription. Here are the highest priority user stories whose processes I needed to think through:
I want to add content to my dashboard
I want to organize conent within my dashboard
I want to assign tasks within a file
USER FLOWS
User stories helped me identified WHAT users want to do in a file, user flows helped me think about HOW users will complete those actions.
Add Content to dashboard
Organize a file

Add a Task within a Document